Islas San Benito, Baja California, México
Welcome back to Sustainability Dispatch!
With rivers and water reservoirs decimated into dust around the world; record heatwaves across Europe; and historic droughts in multiple countries in Latin America and the U.S., climate change seems to have taken center-stage in headlines of major news outlets these past few months. Blue carbon—CO2 sequestered by our Earth's oceans and other coastal ecosystems—is also getting more attention, mainly because of these habitats' incredible ability to suck up carbon from our atmosphere. And it seems like climate change and climate science at large are becoming more mainstream, finally! This means we need to seize the moment and put our grain of salt. At the IOA, we would like to share our recent and upcoming work on blue carbon, including mangroves, saltmarshes, seagrass and oceans, as well as our U.S.-Mexico Climate Change Agenda, and our participation at a United Nations Climate Week hosted by the government of the Dominican Republic. If you find it interesting, please feel free to share it and send us your comments!


Tania Miranda, EC2 Policy Director.
Legal Analysis of the Ownership and Use Regime of Mangroves, Seagrass And Macroalgae in Mexico, in Connection to their Capacity to Generate Blue Carbon Offsets
As part of the Las Californias Blue Carbon Initiative, this study undertakes an in-depth analysis of the legal and regulatory framework of coastal and marine ecosystems in Mexico and their relation to international and potential future domestic carbon markets, including the legal status of such habitats, with the ultimate objective of shedding light on what is missing legally for Mexico to monetize carbon sequestered by them—as a means to finance further habitat restoration, biodiversity conservation, and climate mitigation. You can find the Spanish, original version here and the English translation here.
Valuation of Ecosystem Services in Magdelena Bay, Baja California Sur
The Bahía Magdalena-Bahía Almejas Lagoon complex (MagBay), located on the western coast of Baja California Sur, is one of the most important and productive regions in Northwest Mexico. As part of the Las Californias Blue Carbon Initiative, this study by the Gulf of California Marine Program is a first stab at quantifying the value of carbon stocks and the social cost of carbon in this Lagoon complex, using the InVEST model developed by the Natural Capital Project of Stanford University.
Marine Pollution Research Project – Results and Infographics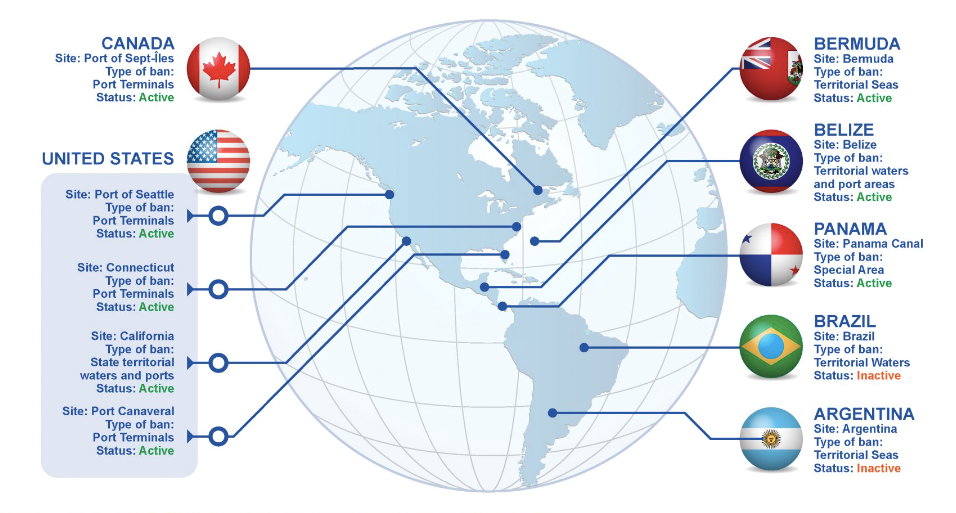 As a part of our Marine Pollution Project, focusing on ship-borne pollution from Exhaust Gas Cleaning Systems (also known as scrubbers), particularly from 10 cruise ships that stayed for long periods during the pandemic in the Bay of La Paz, in the Gulf of California, we have published two new infographics on the results from our study. Created by dataMares, these graphics are available in both English and Spanish. You can also find a cool new map we developed on the different policies and regulations throughout the Americas that help curve this source of marine pollution, in Spanish here and in English here. Lastly, remember we also created this 4-minute video capsule in Spanish, explaining why this issue is important.
Participation in the Latin America and the Caribbean Climate Week 2022 by the United Nations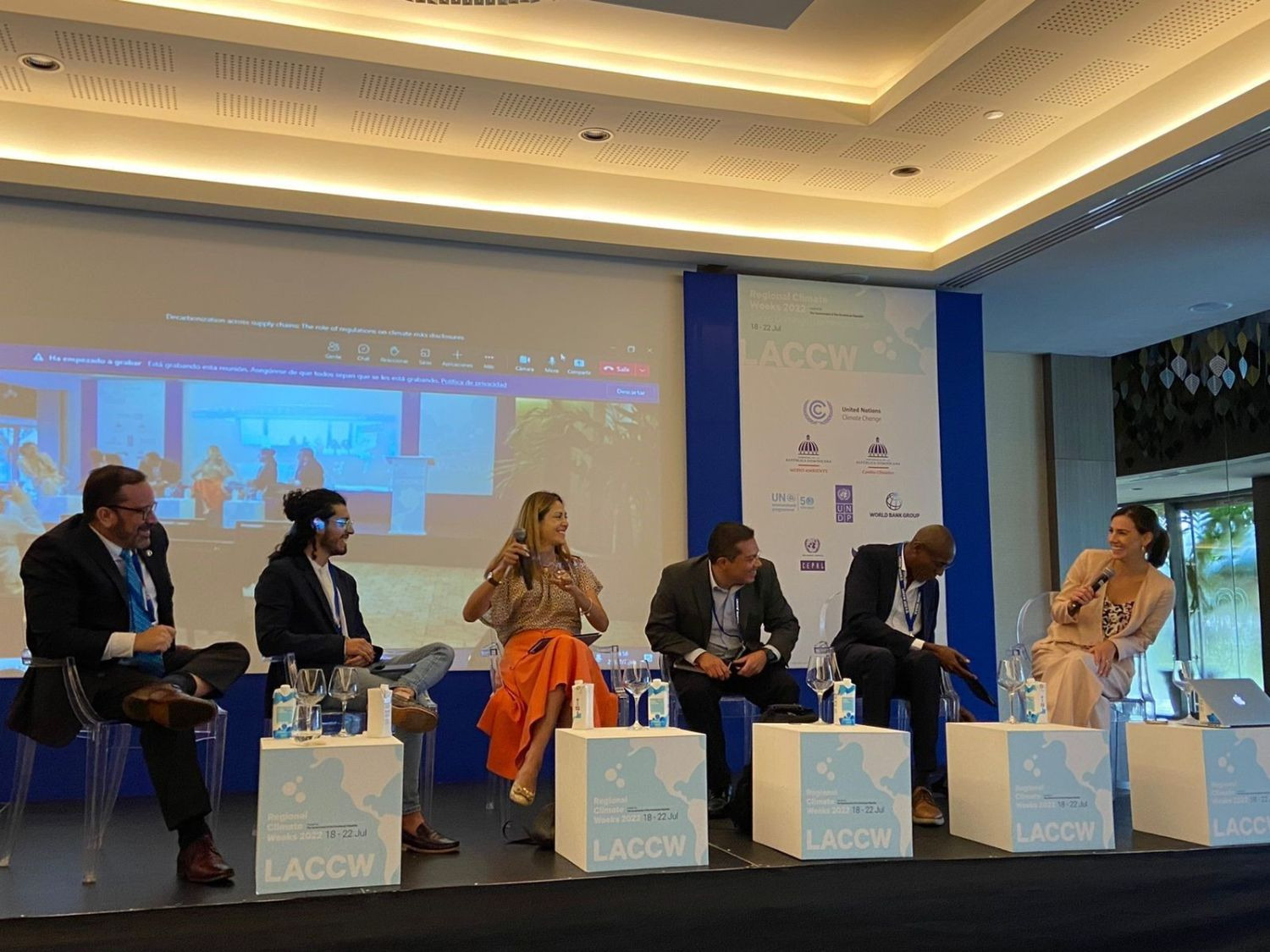 Our Policy Director, Tania Miranda, participated in the Latin American and the Caribbean Climate Week organized by the United Nations and the Government of the Dominican Republic that took place July 18th-22nd. This event brought together stakeholders from across the region to discuss climate resilience, the low-carbon economy transition, and building partnerships. Tania led a discussion titled "Decarbonization Across Supply Chains: The Role of Regulations on Climate Risks Disclosures," which addressed the challenges and opportunities of climate disclosure regulations, their role in supporting a net-zero transition by the private sector, and the decarbonization of supply chains.
Panelists included our non-resident fellow, Soffia Alarcon Diaz, as well as Keith Nurse, President of the Sir Arthur Lewis Community College in St. Lucia; David Colin, COO of MexiCO2; Ivan Islas Cortes, Associate Director of Carbon Trust Mexico; and, Mauricio Mira Ponton, Americas Director of Climate Policy, Finance and Carbon Markets at South Pole.
UC-TV Recorded Sessions of the Pacific Climate Forum are now Available!
In June 1-3, 2022, the Institute, alongside Scripps Institute of Oceanography and UCSD's School of Global Policy & Strategy, hosted the Pacific Climate Forum of the Americas. UC-TV recorded a few of our great sessions that are now available, covering the following topics:
• The State of the Pacific Ocean,
• Climate Adaptation and Action - Lessons Learned from California,
• Ocean Exploration, Climate Solutions, Biodiversity, and
• Climate Action and Regional Security in the U.S. Southern Command.
Our US-Mexico Climate Change Working Group met with COPARMEX and the Consejo Coordinador Empresarial
The U.S.-Mexico Climate Change Working Group—sponsored by the Center for U.S.-Mexican Studies, UCSD; the Sustainable Development Goals Initiative of the Instituto Tecnológico y de Estudios Superiores de Monterrey; Brookings Institution; and the IOA—is meant to assist the U.S. and Mexico in developing a coordinated climate action program. On July 5th, the four founding institutions presented our report and its main findings and recommendations with representatives from the Confederación Patronal de la República Mexicana (COPARMEX) and the Consejo Coordinador Empresarial (CCE).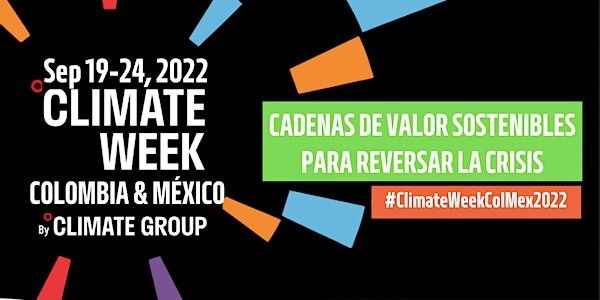 As part of the Climate Week México & Colombia 2022, organized by The Climate Group, la Cámara Verde de Comercio and the Mexico Chapter of the U.S. Green Chamber of Commerce, on September 20th at 11am PDT (1pm CT), we will co-host a webinar on our recent publication titled "LEGAL ANALYSIS OF THE OWNERSHIP AND USE REGIME OF MANGROVES, SEAGRASS AND MACROALGAE IN MEXICO, IN CONNECTION TO THEIR CAPACITY TO GENERATE BLUE CARBON OFFSETS". We will feature 5 awesome speakers to chat about the regulatory framework that prevails in Mexico regarding blue carbon ecosystems and under what circumstances and mechanisms communities can leverage them as a source of income through the voluntary carbon markets. Register here now!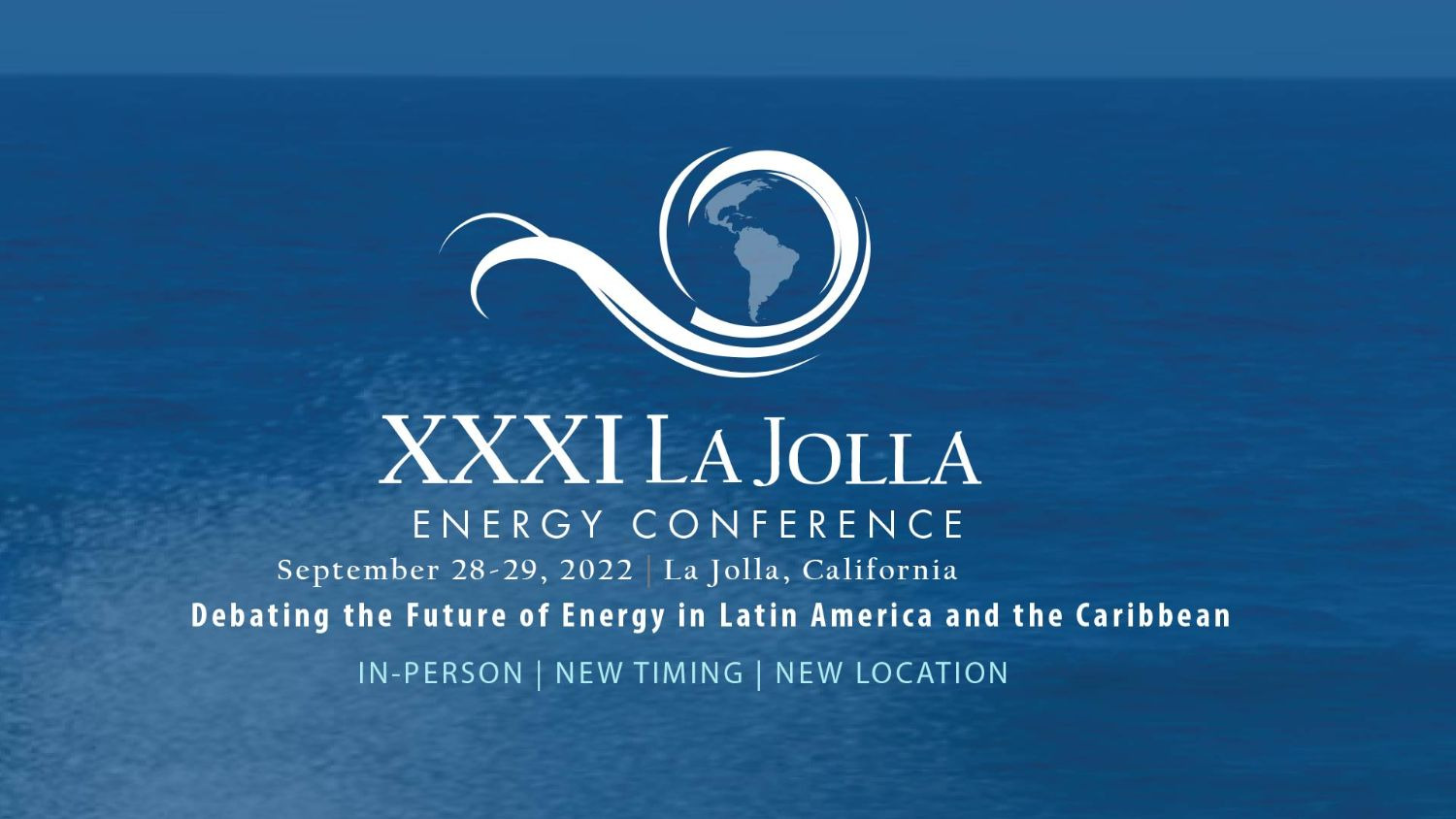 We are pleased to announce that the La Jolla Energy Conference, organized by the Energy & Sustainability Program, will return to its in-person format on September 28th-29th. For 30 years, this conference has been a beacon for energy experts and thought leaders to convene and discuss the latest developments in the industry. This year, the theme is on Debating the Future of Energy in Latin America and the Caribbean with an emphasis on the need to reduce emissions, while also ensuring energy security. Be sure to register by clicking this link!
Relevant EC2-related Headlines
August 24th
Two thirds of Europe threatened by the worst drought in 'at least 500 years', EC climate report. According to a report by the European Commission Joint Research Center, 47% of Europe is under warning conditions and a further 17% is a state of alert. The severe drought has impacted soil moisture, river discharges, and water levels.
August 23rd
Renewable Energy in Latin America Updates 2022. The following article tracks the development of the renewable energy sector within the Latin American region. It highlights Argentina, Brazil, Chile, Colombia, Peru, Honduras, Mexico, and Puerto Rico.
August 17th
Biden signs historic climate bill into law. President Now Biden has signed a $700 billion bill that invest $375 billion to fight climate change. It is expected to lower US emissions in the US by 44% by 2030 by including tax incentives for firms to invest in renewable energy and rebates for citizens who buy electric cars.
August 15th
Conference opens to draft first-ever treaty on oceans biological diversity. The UN Intergovernmental Conference gathered in order to create a new treaty that aims to address the conservation and sustainable use of marine biodiversity in areas of the ocean beyond the limits of maritime zones.
August 9th
Panama Canal grapples with climate change. Changing weather patterns have been affecting the water supply for the Panama Canal after the region experienced it fifth driest year in 70 years in 2019 and rainfall is down 20% compared to the average.
July 18th-22nd
The Latin America and the Caribbean UN Climate Week 2022 takes place. The event was a regional collaboration platform that took place in the Dominican Republic, with the hopes of exploring relic against climate risks, the transition to a low-emission economy, and partnerships to solve pressing challenges.
The Cool, Geeky Climate Suggestion of the Month
EL ASUNTO, AN INDEPENDENT PODCAST TO FIGHT CLIMATE CHANGE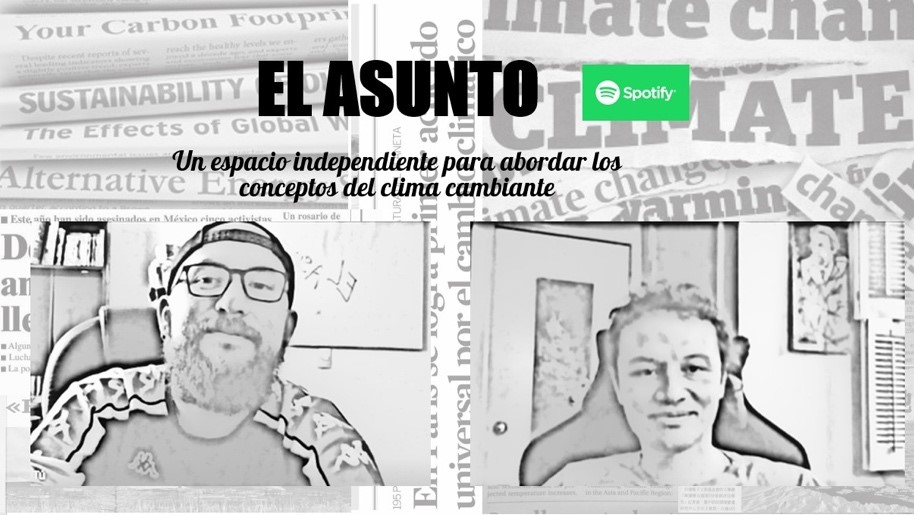 El Asunto is a podcast created by Martin Perez and Felipe Torres, two technicians from Colombia that work on climate action advising governments, civil society, and private companies. On most episodes, they invite other specialists from multiple countries around the globe—with a focus on Latin America. El Asunto looks to create bridges for collective action that raise awareness and make a holistic technique to support climate action. It is edited by Laura Torres and reported by Jessica Vega.
he Institute of the Americas' Environment & Climate Change Program (EC2) strives to catalyze climate leadership amongst the private sector and local/regional governments in the Americas, to promote sustainable growth, tackle climate change and minimize environmental impacts in the region with the goal of protecting its rich marine and land-based natural capital.
This is the third edition of Sustainability Dispatch. Please click here to view our first edition from May and the second from July here!
Thanks for tuning in and please remember to subscribe so you see our newest updates in the next Sustainability Dispatch!